Last December, Street Food Warehouse had the incredibly exciting opportunity of working with XL Event Lab on a series of drive-in events… The Parking Lot Social Winter Festivals, which took place over the festive period across the UK. XL Event lab, an epic events company that work on a global scale, reinvented the outdoor event game with the concept of a 'parking lot social' to provide the public with an alternative event throughout the Covid-19 pandemic. When Christmas came and restrictions were once again tightened, they decided to re-boot their events with a festive twist. With XL Event Lab wanting to simulate a Christmas food market, Street Food Warehouse were brought in to do what we do best, provide first class street food.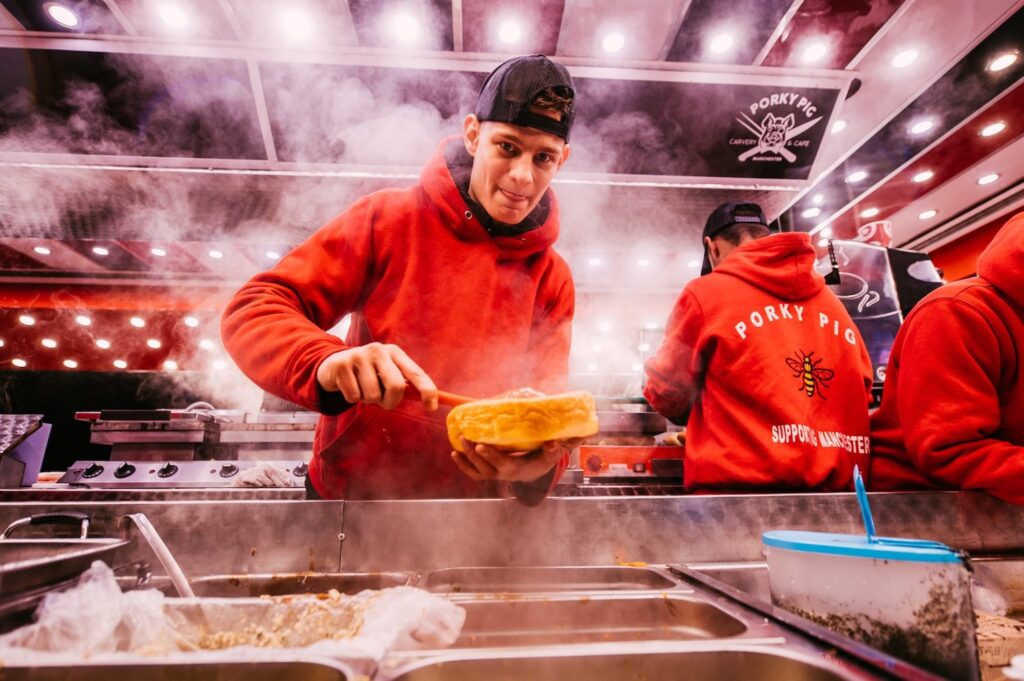 The Parking Lot Social Winter Festivals took place in numerous location across the UK and saw customers drive in to a transformed car park venue for Christmas film watching, live pantos, take part in a games evening (The Parking LOL… need we say more) or experience a comedy night from the comfort of their cars. The street food traders provided by us served up a storm with hot food delivered straight to the cars. 
With 7 Parking Lot Social events to sort out, we reached out to our trusted database with the opportunity and quickly saw the applications flood in. After almost a year of the coronavirus pandemic, traders were understandably apprehensive about new events but after taking a peek at the sales figures, we were over-run with interested traders. The first two events taking place in London and Manchester got off to a great start and were incredibly busy with traders selling out on the first day and having to restock numerous times throughout the event!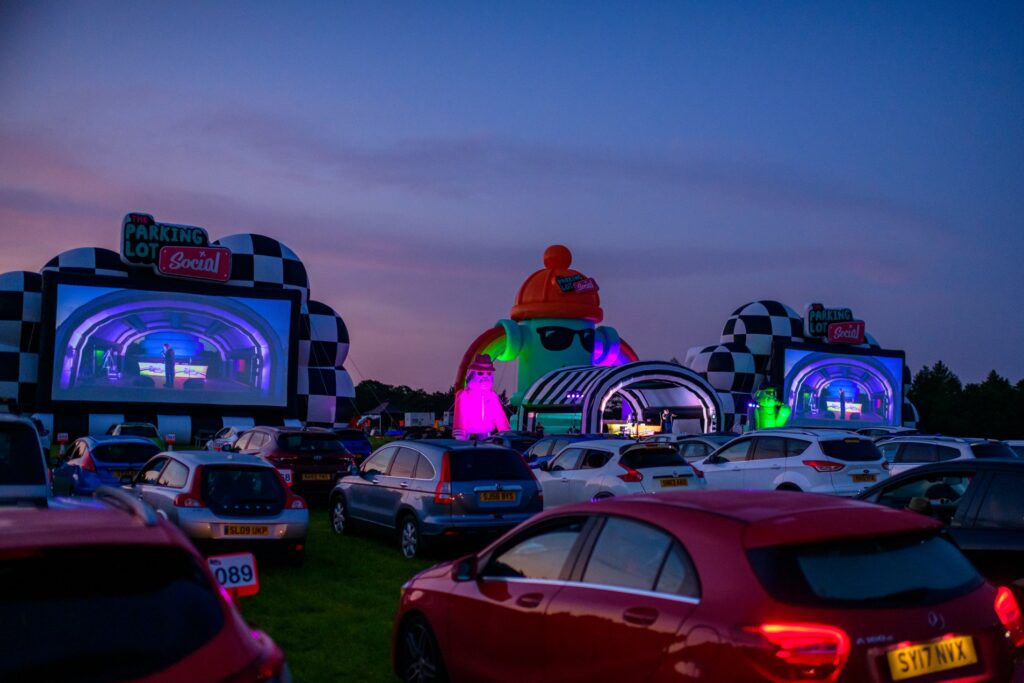 A few encounters were hit along the way, but the whole point of using a specialist street food supplier (Street Food Warehouse) is to make these hurdles much easier to approach. The first of the event series kicked off in London, where due to the high demand, one of our traders was overrun with orders. Street Food Warehouse came to the rescue and found an additional trader within one day, not just any trader… enter Seawise Catering! We were able to onboard them and quickly secure their attendance for the next day, where they absolutely smashed it, so much so that they were invited back to trade at every event!
One key issue was traders being reluctant to take on the 'risk' of an unknown event during such a turbulent year. We used our expertise and knowledge of the industry to help illustrate to traders that it would be absolutely worth their while. We collated sales information, figures on previous traders sales and spoke individually to traders to address and reassure any concerns. What this meant was that we were able to secure only the best traders for the events who could truly cope with the demand of sold out drive in events where hundreds of orders come in within minutes of cars arriving. 
A number of events were selling even better than expected, extremely close to event day, we were able to quickly source additional traders for these events, meaning that neither the existing traders nor the client were left overstretched. Even with these last minute changes, we ensured all traders were up to the usual standard of Street Food Warehouse. We support both client and trader prior, during and post event to ensure everything runs smoothly. Being available during events allows us to efficiently resolve any issues on all ends. 
All in all, the events were an incredible success. Customers thoroughly enjoyed themselves in a safe way and our traders danced out having made huge profits that they couldn't believe possible during COVID-19. Happy client, happy traders… happy Street Food Warehouse!
Testimonials
"Working with the Parking Lot Social & Street Food Warehouse has been an absolute pleasure! Great people, who really care about supporting independent street food traders and know how to plan a stress free event. Footfall levels were high and in line with quoted numbers, meaning that we sold all our stock and met our predicted turnover and profit margins. After a difficult year's trading owing to covid 19, this opportunity really helped to turn around a loss making year, whilst simultaneously taking our brand to new audiences around the country. Thanks Mel and the team for a hugely profitable and successful event." – Knowing Meat Knowing You, London based street food trader.
"It's been great working with Street Food Warehouse.  Everyone has been extremely attentive and on the case which certainly makes it much easier on our end.  There have been a few last minute changes and i'm aware that this is frustrating and takes extra effort from your guys, however they have been resolved without fuss so thanks for being so attentive." – Chief Operations Officer, XL Event Lab
"We joined street food warehouse in 2020 and went for a couple of the events, which turned out to be really great events. Especially with the pandemic going on there was not a lot available, so we went for Covid safe events that they provided. They guided us every step of the way and gave us some brilliant advice to grow our business. We are very grateful and most definitely do some more great events with them over the coming years." – Lekker Eat Dutch, Manchester Based Trader
To keep up to date on Street Food Warehouse's current work, check out our Facebook and Instagram