OUR WORK WITH: FUSION STUDENTS (CARDIFF & HATFIELD)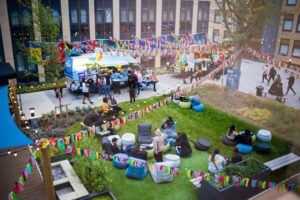 Along with running our Street Food Tour across Wales and the South-West, here at Street Food Warehouse we also pride ourselves on our coordination of street food for all sorts of third party events. From corporate parties, events, birthday parties and even weddings, we've got the street food strategy for you!
So, how does it work?
As an event organiser, you might know exactly what sort of street food you're looking for. Or, you might need some inspiration from our side. For these, plus everything in-between, we've got things covered. We'll hand-pick traders from our enormous database of street food contacts from all ends the UK to find the best of the best to suit your event perfectly – whether it's a specific cuisine you're after, or just food that'll match your event. We can manage everything, from plucking out the street food of your dreams to getting down and dirty with the nitty-gritty admin side of things.

Fusion Students
We recently had the pleasure of curating the street food lineup for the opening parties of two incredible brand-new student halls in Cardiff and Hatfield, both run by Fusion Students.
The first of the two, the Zenith, hosted some of our staple traders here at The Warehouse.
That Street Food served up their Mexican madness with the usual friendly smile, and in their words "the students got treated to their first taste of Cardiff Street Food and South Wales monsoons all in one day!"
Tram Dogs also stopped off at the Zenith to serve up their heavenly hotdogs to the students of Cardiff.
Dios Mio Churros then served up dessert for the students, traditional Spanish churros coated in cinnamon sugar. What more could you need?
The following weekend, Luna in Hatfield welcomed The Yeerologist to their opening party. They served up some mouthwatering Greek souvlaki alongside Crepes Zone, who provided the students of Hertfordshire with sweet and savoury French delicacies in their mega colourful van!
So, if you're looking for street food at your event, head over to www.streetfoodwarehouse.co.uk/hire-us to enquire – or give us a call on 02920 340587 for a street food chat!