SAY 'CHEESE' AT DEVON STREET FOOD FESTIVAL 2019!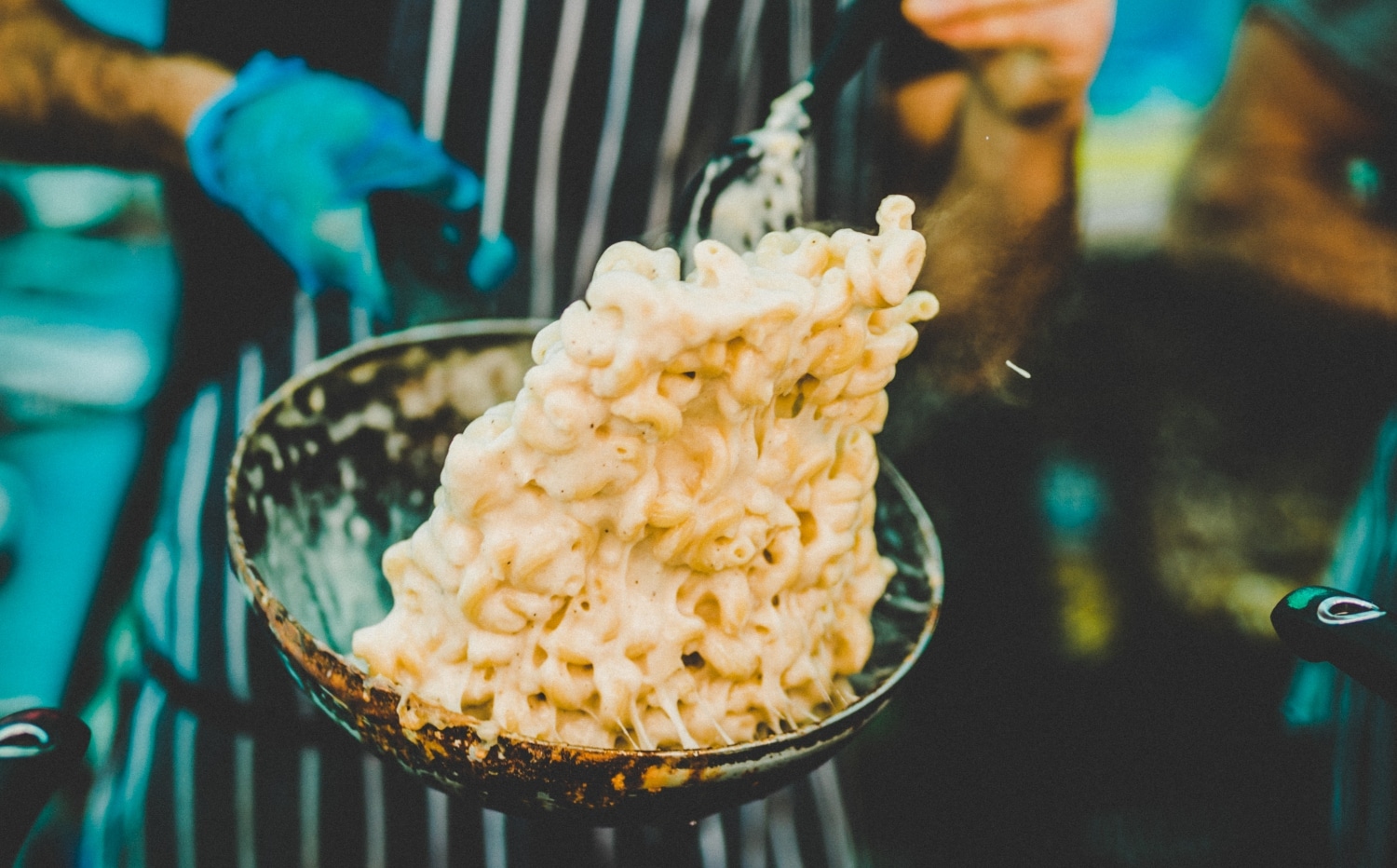 With a giant selection of street food offerings at your fingertips come Devon Street Food Festival, you might feel a little bit spoilt for choice. And you'd be correct in that feeling, because all of the vendors are awesome! However, to narrow it down a little bit, we'll be whipping up a series of pieces on the various types of food that you can dig into, whether you're looking for something a bit international, or you're a raging sweet tooth. For our first deep dive into the foodie mayhem though, we're looking at all things cheese! From Halloumi fries to Mac and Cheese, we've got all sorts of brie-lliant vendors that'll take your fancy.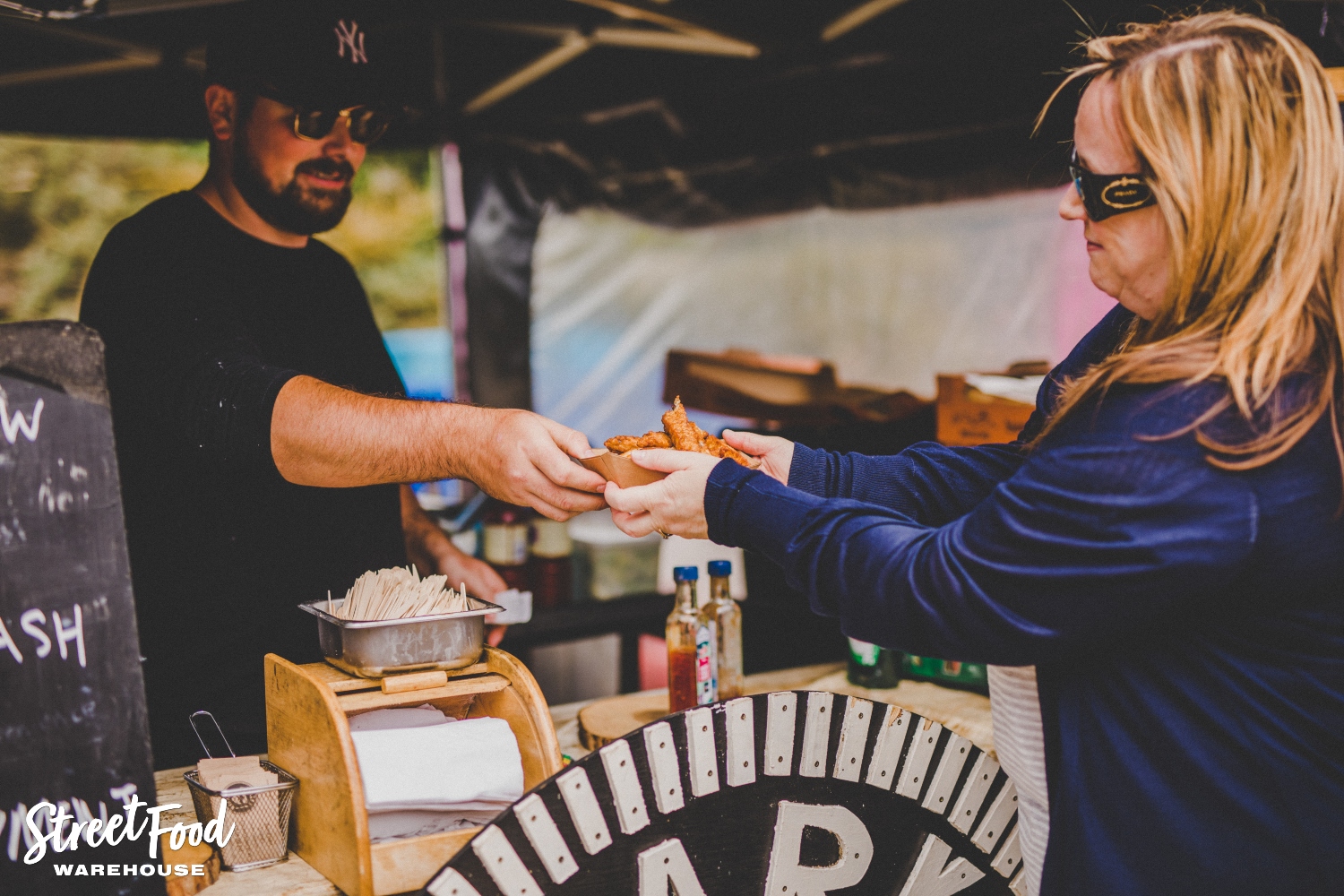 CLARK'S KITCHEN
Hearty portions of Halloumi means Clark's Kitchen is a big draw for street food festival attendees across the country. It'll be no different at Devon Street Food Festival – here is a vendor that keeps it simple and does 'keeping it simple' incredibly well. Are we allowed to call cheese 'succulent'? Perhaps not, but this hits the nail on the head, frankly. Their hearty portion of Halloumi fries comes with a variety of side sauces (the tzatziki is our recommendation), and the Halloumi patty is a wicked vegetarian main-meal option. Great nosh from Clark.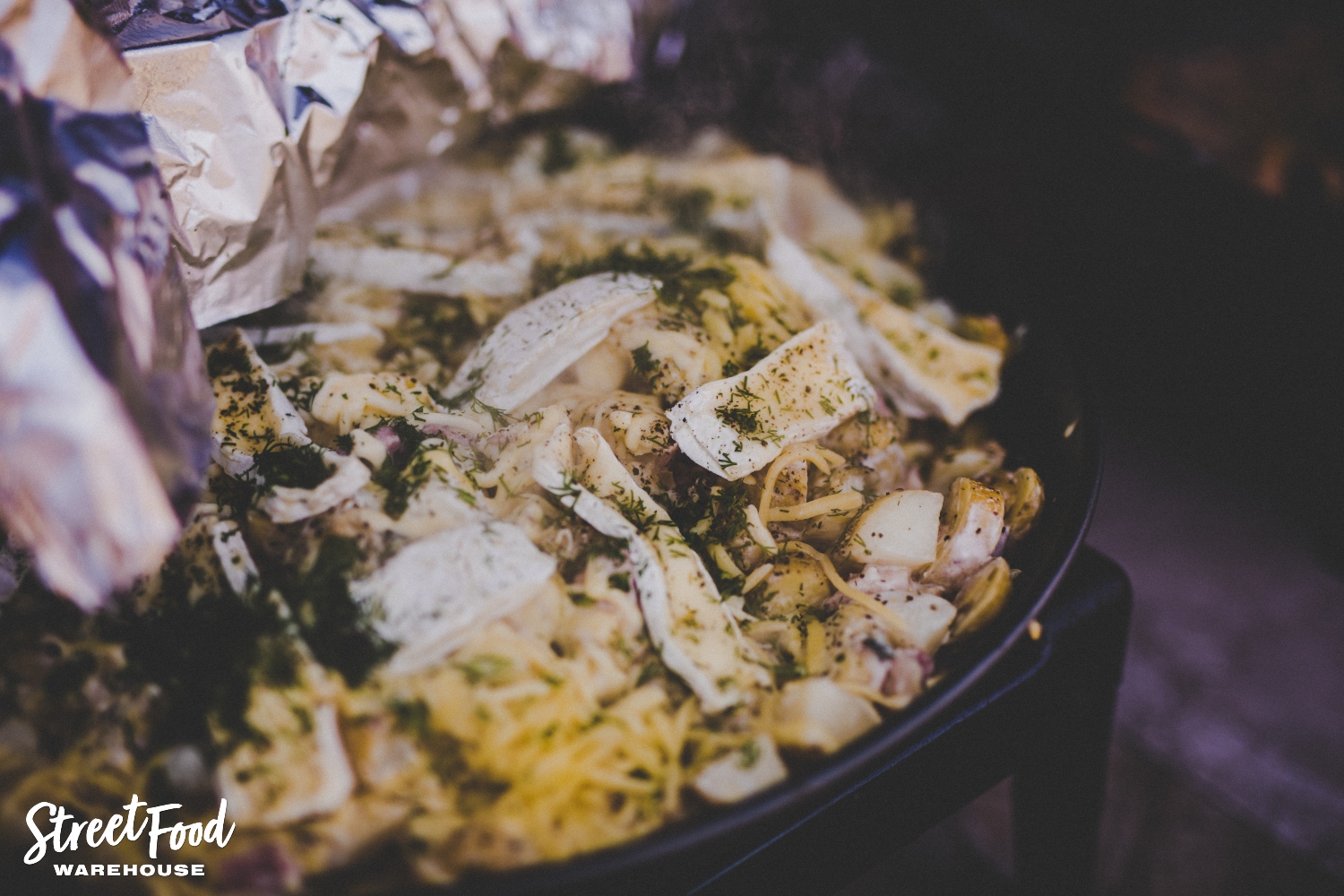 RUE DE LA COCOTTE
The légendes Français over at Rue De La Cocotte have been taking the street food scene by storm already this summer with their delicious French cuisine. Amongst the hustle and the bustle of the Street Food Warehouse events you'll find plenty of food festival goers stopping and staring at the giant pans of tartiflette cooking out front of the Rue De La Cocotte stall. Tying together the fried potatoes, bacon, onions and other delights is an assortment of melted French cheeses, and hunks of brie atop this mound of carb-y delight. Fantastique!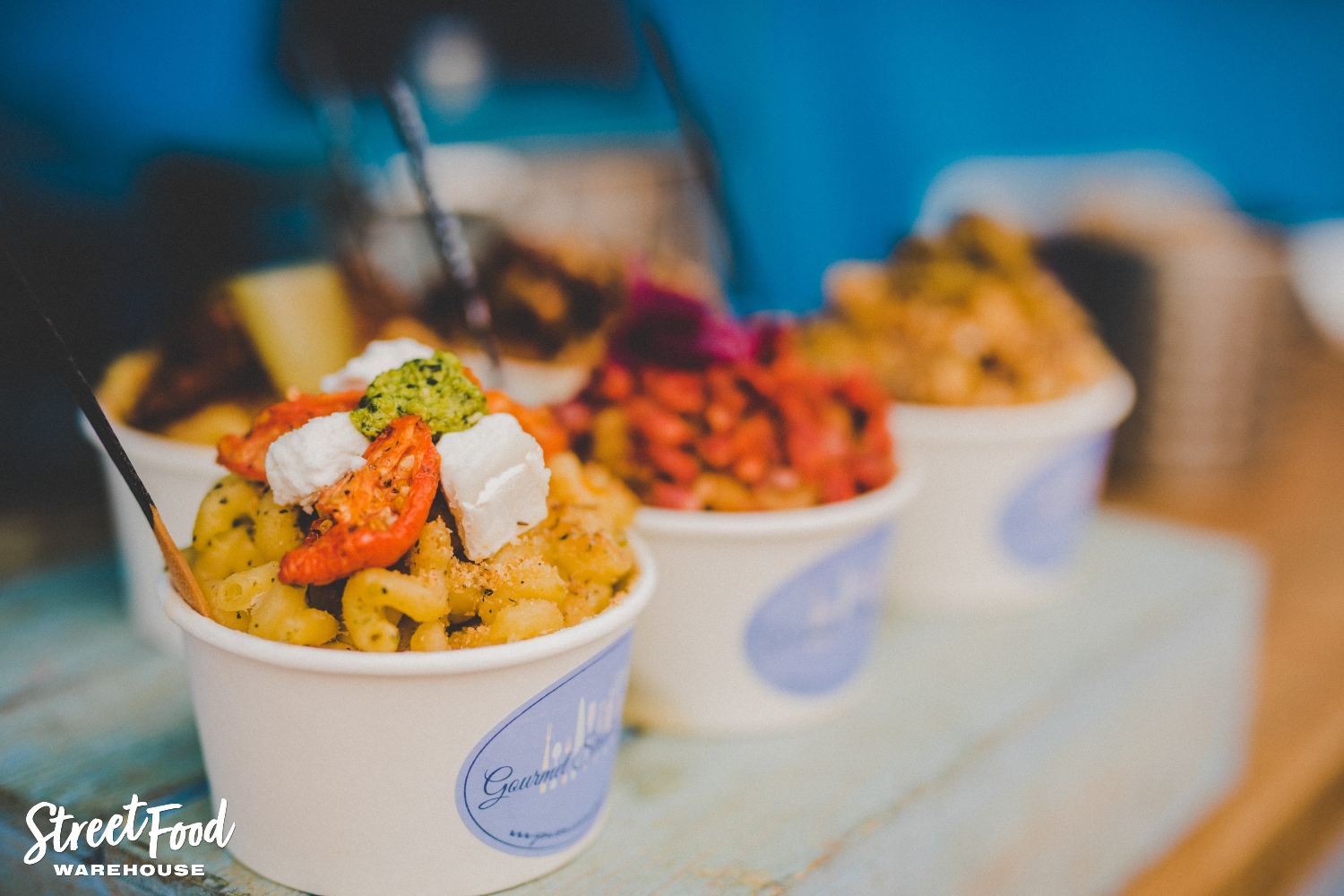 GOURMET STREET KITCHEN
Mac and Cheese. Now we're talking. The gents at Gourmet Street Kitchen, fronted by lovely Adam, are serious demons when it comes to whipping up the finest of the fine mac 'n' cheese dishes. How do the following sound? The Hot and Handsome adds chorizo and caramelised onion, Banging Bacon piles on the jalapeños and smoked bacon, and not forgetting the veggies, Adam and the gang serve Popeye's Pesto (pictured) – spinach, peas, basil, goats cheese, cashews and sundried tommy's. Get in the queue… behind us!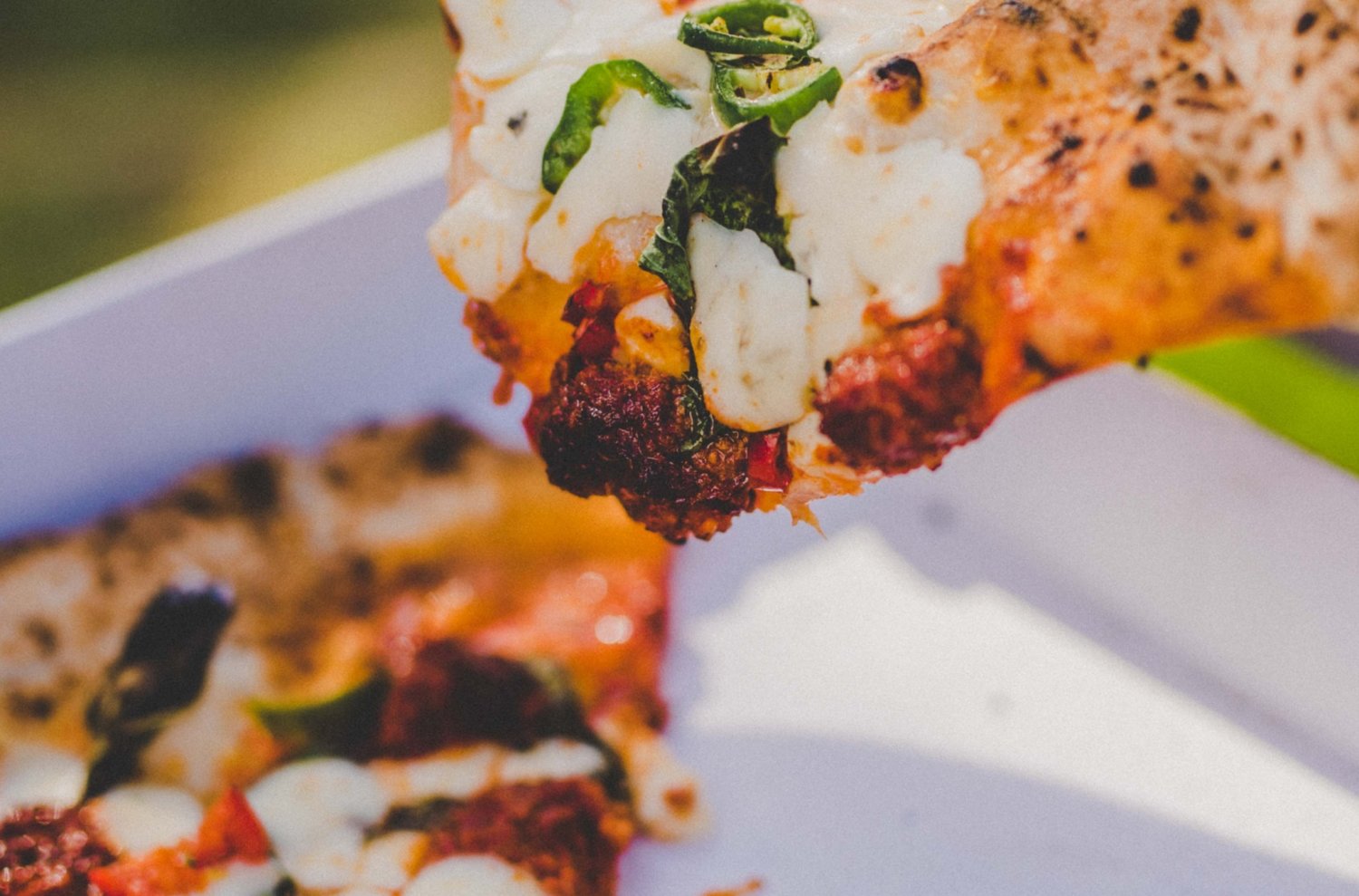 HANDMADE PIZZA CO.
You didn't think we'd do a big ol' cheesy feast of a feature and not include pizza, did you?! Behave! The Handmade Pizza Co. are coming to Devon Street Food Festival to satisfy all of your doughy and cheesy needs with their wicked – and yes, handmade, funnily enough – pizzas. Perhaps one of the frustrating things about ordering a pizza is the time it takes to make. Those precious seconds when you're waiting patiently for that first slice of heaven can feel like forever. No such issues with this lot though, whose 90-second pizza cooking means its fresh out of the oven and straight into your mouth, no messing. 
Have you signed up for your FREE ticket to Devon Street Food Festival 2019? Do so here, and you'll be in with a chance of winning x4 street food meals, x4 cocktails and a bunch of Encona sauces!